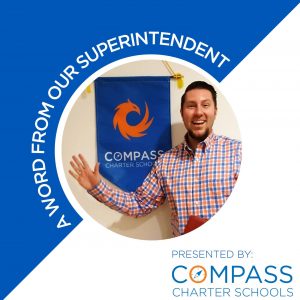 Greetings Compass Family!
As we start the second month of the 2020-21 school year, I am honored to be celebrating my fifth anniversary with Compass! It has been such an incredible honor and privilege to partner with scholars, parents, staff, and the community to serve and support scholars along their educational journey these past five years.
As I reflect on the past five years and envision where we are headed, I am most proud of our mission, vision, and values, which have and will continue to guide our work. These guiding principles, which were developed during my first year, encompass the feedback and input of scholars, learning coaches, and staff. They serve as our guiding compass in all that we do. The ultimate goal is always to ensure that we support our scholars along their educational journey and help prepare them for their future success.
As with any journey, there are highs and lows; however, it depends on our frame of mind and how we choose to view these moments. Instead of a "low," I view it as an opportunity – a chance for growth. If we step back and remember why we are here and who we are serving, we will continue to center our work around our scholars and use these moments to continue to improve.
I highlight our Compass Experience whenever and wherever possible, and am inspired by everyone who helps us improve this experience. Through feedback from our scholars, learning coaches, and staff, we continue to enhance and expand that experience. Five years ago, we did not have the number of teams that are available today. Engagement, Scholar Success, and Scholar Support are just a few examples of new departments that have been introduced and expanded, all to support our scholars and learning coaches. Have there been bumps along the road? Of course. Have we learned and made course corrections? We have. And we will continue to learn, grow, and adjust as we move forward. 
Why do we adjust? We adjust to ensure that we are meeting the unique and individual needs of our scholars. That is the beauty and power of school choice. We are collectively building an exclusively virtual, non-classroom-based, independent study, personalized learning public charter school that we can be proud of – Loud and Proud! 
Compass's team is second to none, which is one of the many reasons I believe we indeed are the Gold Standard. I am not saying that we are perfect; instead, we are striving for perfection. Everyone at Compass helps to ensure we are making those strides, along with your feedback, participation, and involvement. When faced with opportunities, we come together to meet them. We find and share resources, adjust, and do what we can to rise above the moment. 2020 has been interesting, to say the least, but we cannot allow it to define us. If anything, 2020 is providing another opportunity to reflect, adjust, and grow. What can and what should we be doing to support our scholars, learning coaches, and staff? What should become part of the new normal, and what should be left in our history?
Let us know! With your scholar's goals in mind, I'd like to introduce The Energy Bus' Principle #2 – Create a Positive Vision. A positive mindset is important in achieving our own goals and encouraging those around us to create a positive and productive environment. What is your positive vision? What are some ways you can reinforce 'Creating a Positive Vision' with your scholar so that they can support their peers? What is our collective vision for the future? What can and should Compass be for our scholars, learning coaches, staff, and community?
We begin our virtual Coffee with Compass events this month to continue to build community amongst staff and families. I encourage you to stop on by and share your experiences and visions for the upcoming year. We create the Compass Experience, all of us, together. I encourage you to be involved and lend your voice. It is going to be an incredible year because it is within us to make it so. 
---
Compass Charter Schools (CCS) is a WASC-accredited virtual charter school that serves families throughout California. Have a question about our Compass Experience? Explore our website, or feel free to visit my webpage at https://www.compasscharters.org/about-us/superintendent-of-schools/.