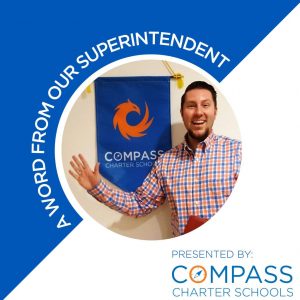 It is exciting to move forward into May, a month of celebration! For example, this past Saturday, May 1, we celebrated School Principal's Day by extending sincere appreciation to our incredible team of principals and assistant principals who have genuinely stepped forward in extraordinary leadership during this time. Yesterday evening at our virtual National Honor Society Induction Ceremony, we inducted eight scholars into our National Honor Society program. I am so proud of all our Compass scholars and the incredible accomplishments they have made this year. And this is just the start of this month of celebration…
This week we recognize our fantastic teaching staff during National Teacher Appreciation Week. Our 135 teachers show tremendous dedication to our scholars, so let's shine a bright spotlight on each and every one of them. Show your favorite teacher your appreciation by nominating them for our Scholars' Choice Employee of Year Award. Our scholars are invited to send thank-you letters to express gratitude towards a teacher or team member. Create artwork, poems, video messages, or even send them a virtual award! Join us on social media throughout the rest of the week, using #ThankATeacher and @CompassCs, to share your favorite memories about your teachers.
 Please also join us in celebrating National Charter School Week (NCSW) next week (May 9-15). NCSW is an annual opportunity to raise awareness about California's excellent charter public schools, like Compass Charter Schools! This year is an exciting one as it is the 30th anniversary of the first charter school law, which changed the future of public education and scholar success forever. In recognition of our movement's history and future, this year's theme is National Charter Schools Week 2021: 30 Years Strong. We recognize the next generation of changemakers and reflect on how far we've come. Please join the celebration by posting, tweeting, tagging, and sharing pictures and videos with us, using #CharterSchoolsWeek and #CharterLove.
 Next Wednesday, May 12, is California Day of the Teacher. This year's theme is Cultivating Minds & Healing Hearts. Many California educators in the K-12 space have been providing the quality public education all of our scholars deserve for generations. Parents, aunts, uncles, grandparents, children – all come together to make a difference in the lives of California scholars. We want to hear from you! Post. Tweet. Tag next Wednesday, May 12, to share pictures, videos, and more on social media to celebrate your teachers! Just tag @CompassCS and use #DayOfTheTeacher and #GreatTeaching in your social media posts! We'll also be hosting a virtual fundraiser to raise funds to support our new scholarship funds for our scholars with Panda Express next Wednesday. Please help us spread the word and enjoy a meal (or two), all while raising funds to support our graduating seniors. 
 Our final celebration honors our incredible staff during Classified School Employees Week (May 16-22). Every day, Compass employees are building connections and inspiring lives. From teaching scholars vital skills and ensuring that schools operate smoothly, classified employees are integral to Compass. This week, let our staff know you appreciate them by sharing your gratitude on social media (tag @CompassCS and use #CSEW2021), send them a thank-you note, or by nominating them as our Scholars Choice Employee of the Year.
 Thank you for your continued support and belief in Compass. I look forward to continuing our growth together to provide school choice to scholars throughout California. Enjoy the month of May as we celebrate our teachers, staff, and of course, you! Finish the year strong, and celebrate all that you have accomplished this school year! 
Forever Loud and Proud!
---
Compass Charter Schools (CCS) is a WASC-accredited virtual charter school that serves families throughout California. Have a question about our Compass Experience? Explore our website, or feel free to contact me directly at jlewis@compasscharters.org or (818) 824-6233.