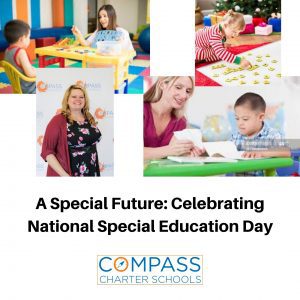 Today is National Special Education Day!
We have an incredible Special Education Department at Compass Charter Schools (CCS), and we make it a priority to serve all of our scholars' needs and help them reach their greatest potential. CCS provides support services in a virtual environment for scholars with Individualized Education Programs (IEPs). For scholars in need of Specialized Academic Instruction, CCS Special Education Instructors provide these services in a virtual online format. Specialized contractors provide IEP services for Speech, Occupational Therapy, Physical Therapy, and Psychological Services to provide assessment and therapy services. Many of our contractors provide services in an online format as well.
Our mission in the Exceptional Scholar Department is to prepare our scholars for social-emotional and academic challenges to empower them to self-advocate, take responsibility, and instill a passion for lifelong learning in a rigorous collaborative virtual environment. 
My education background has a foundation in Special Needs, stemming from my personal experiences as a parent of a son having an IEP and 504 Plan. Acting as my son's advocate, parent volunteer, eventually paraprofessional, I had the desire to return to school and complete my education. Determined, I focused and earned my AA, BA, Mild/Moderate, and Moderate/Severe Teaching Credentials, Master of Special Education, and Certification for Autism Spectrum Disorders. My two sons always were my priority, so my education came at a slow pace; this allowed me the time to substitute teach Pre-K through age 22 years in Special Education, both Mild/Moderate and Severe. I developed a love for serving people.
As an educator, I have taught Resource (RSP) and Special Day Class (SDC) in the high school and elementary setting. My classes ranged from ten students through 33 students at a one-time period. Some of these scholars remain in contact with me today, having married and starting families after several years behind us.
I look forward to forming great professional bonds with both scholars and learning coaches/parents, exploring which learning modality works best for our educational journey, and enhancing our scholars' strengths. We will work together to find a path in developing a comfortable fit to "smooth out" the areas of need until learning becomes effortless. Together, we can accomplish this!
What is SELPA?
CCS is a member of the El Dorado County Charter SELPA in California. Every local education agency (LEA) is required to belong to a Special Education Local Plan Area (SELPA). The SELPA is a consortium of LEAs responsible for developing special education policies and procedures, distributing federal and state special education funds, and providing a range of professional development pertaining to special education. With this support, the Charter SELPA's partners continue to demonstrate the capacity to provide high-quality special education programs to their students.
The El Dorado County Charter SELPA was the first statewide charter-only SELPA. The Charter SELPA is a cooperative model designed to ensure special education programs are available for all students with disabilities.
Since 2007 the Charter SELPA has grown from four charter partners, operating 10 charter schools, to include 178 partners, operating 375 charter schools, representing over 100,000 students.
https://charterselpa.org/partner-services/pln/
Some Facts on Special Education:
About One in Eight California Students Receives Special Education Services. In 2017‑18, 12.5 percent of California public school students received special education, increasing from 10.8 percent in the early 2000s. The majority of students with disabilities have relatively mild conditions such as speech impairments and specific learning disorders (such as dyslexia). However, the number of students with relatively severe disabilities has been increasing—doubling since 2000‑01. The most notable rise is in autism, which affected 1 in 600 students in 1997‑98 compared to 1 in 50 students in 2017‑18.
https://lao.ca.gov/
The disability categories and enrollment breakdown in California for individuals (newborn through twenty-two years of age) who received special education services in 2018–19 are as follows:
Autism: 120,095

Deaf-blindness: 114

Deafness: 3,223

Emotional disturbance: 25,233

Hard of hearing: 10,657

Intellectual disabilities: 43,770

Multiple disabilities: 7,308

Orthopedic impairment: 9,916

Other health impairment: 104,792

Specific learning disability: 300,295

Speech or language impairment: 164,698

Traumatic brain injury: 1,541

Visual impairment: 3,405
https://www.cde.ca.gov/sp/se/sr/cefspeced.asp
Thank you to our incredible teachers, staff, and parents for all the incredible work that you do to pave ways for these exceptional scholars. We are so Loud and Proud of each and every one of them. If you have any further questions about Special Education at CCS, please visit our SPED Department page or contact Leslie Sharma, Special Education Coordinator.