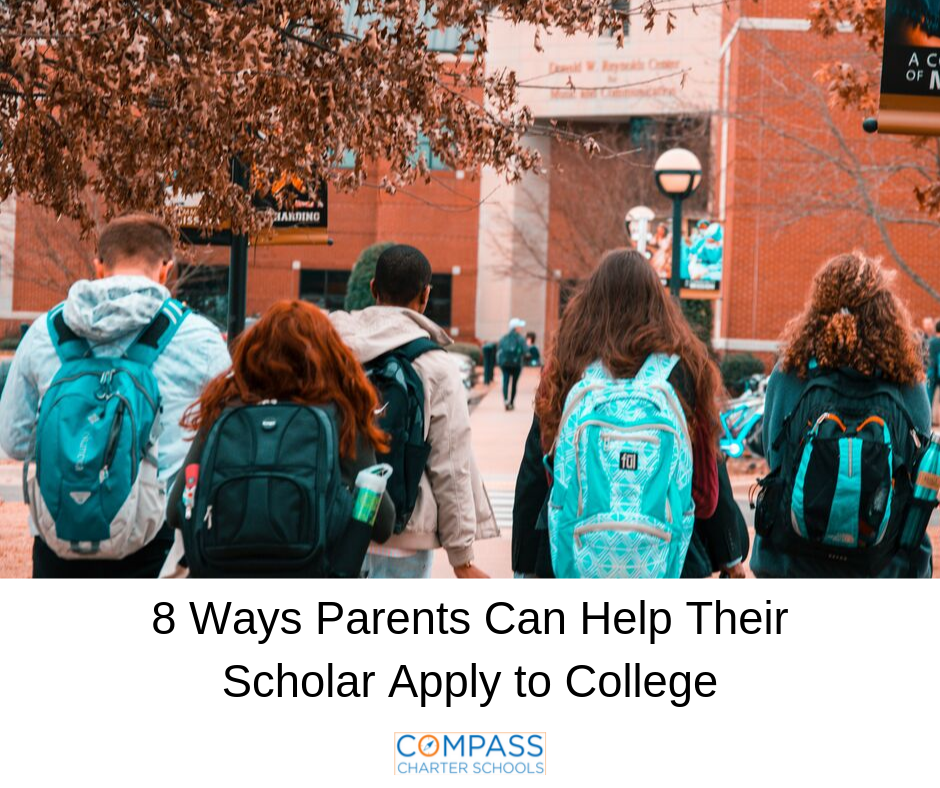 The college admissions process can seem like a daunting and overwhelming journey for high school scholars and their families. Truthfully, there are several steps involved when applying to college and it can be challenging to follow each step in the right order and meet strict deadlines. The fall season, also known as college application season, is the time when high school seniors are starting to fill out college applications and write application essays for the schools they would like to attend after graduation. Meanwhile, parents are often supporting their scholars by heavily researching college admissions information, tuition costs, scholarships, grants and more. 
To help kick off the college application season, Compass Charter Schools (CCS) is celebrating #WhyApply Day this Friday, September 20 to help share important facts about applying to college and the benefits of graduating from college to encourage high school scholars to apply! We're also sharing eight key ways that parents can help their scholar successfully apply to their favorite colleges:
Know Your Deadlines
Meeting application deadlines is arguably the most important part of successfully applying to college. Parents can support their high school scholars by helping them create a calendar and marking the submission deadlines for each college application. They may also want to help their child mark other important college-related deadlines for scholarship and grant applications. After marking the submission deadline, parents can help their scholars create a timeline or schedule for starting and finishing each application. We advise scholars to avoid waiting until the last minute and completing an application in one day. Instead, we encourage parents to help their scholar work on their applications a little bit each day until they're complete. This strategy also leaves time for scholars to review their applications and essays (a few times!) before submitting to the college. 
Leadership Matters
Before senior year, we encourage high school scholars to join a school club, a sports team, or a local charity where they can gain leadership experience. College admissions officers are often attracted to college applicants that clearly outline their leadership experience or community involvement. Parents can share the benefits of leadership with their child and encourage their child to step into a leadership role while in high school. We encourage parents to communicate with teachers and school staff to become more aware of leadership opportunities that are available for their scholar. Then, parents can share those opportunities with their child and encourage them to participate. 
Gather Letters of Recommendation
Letters of recommendation from teachers and school staff are an important part of many college applications. Scholars will need to ask a few teachers, school counselors or coaches to write positive letters of recommendation about their character and academic performance. Parents can support their scholars by helping them create a list of school staff that may be willing to write a letter of recommendation. Then, parents and scholars can work together to narrow that list down to 3-4 school staff that the scholar will then approach and ask for a letter of recommendation. Parents can also help by reminding their scholar to thank each teacher or staff member who writes a letter of recommendation for them. 
Encourage Honesty
It's important for families to know that college admissions officers are going to closely review and verify the information provided in each application. We strongly encourage parents to help their scholar use accurate and honest information when completing each of their college applications and essays. College essays should accurately reflect each child's character, goals, and accomplishments. Using false information in college applications or essays will often result in denied college acceptance letter. It's also important that parents submit accurate financial details when completing certain sections of each college application. Parents can meet with a certified financial advisor or tax professional to ensure that they are submitting accurate financial details in their child's college application. 
Review Their Social Media Pages
Today, college admissions officers are on social media and they are reviewing high school scholars' social media pages. Parents can support their children by reviewing their social media accounts to ensure they do not have any inappropriate content posted that may deter an admissions officer from accepting their application. Admissions officers are looking for scholars who are going to positively and professionally represent their college, and nowadays they look to social media to learn about each scholar and judge their character and decision-making capabilities.
Contact Your School Counselor
One of the best ways to manage the college application process is by connecting with a school counselor. At CCS, each high school scholar is assigned a credentialed school counselor who helps oversee their course selection, GPA, and college (or career) goals. Each scholar also has access to the designated College and Career Readiness Counselor who supports scholars by providing information about college applications, scholarships, college entrance exams and more. Parents can communicate with these school counselors to learn more about the college application process, learn about helpful resources for them and their child, and get answers to their questions as they work their way through the college application process!
Keep Copies of Everything
We strongly encourage parents to make copies of their child's transcripts, essays, recommendation letters, completed applications and financial records. Sometimes, documents get lost in transit, so it's important for families to have copies of every completed application just in case they need to resubmit any documents to the college admissions officer. Having copies of each completed application can also be used as a reference if scholars or their parents have discussions with a college application officer about their acceptance or denial letter in the spring.
Confirm the Applications Arrival
After submitting each application, parents can support their child by following up with each college to ensure that their completed application arrived on time. Occasionally, applications can get lost in transit and are not received by the college. Parents can be proactive and ensure that their child's application was received by making a quick phone call to the college's application department! Or, if there were any issues with the arrival of the application, they can start to solve the issue right away instead of waiting until the springtime. 
_____________________________________________________________________________________________________________
Compass Charter Schools (CCS) is a WASC-accredited virtual charter school that serves families throughout California. Interested in learning more about CCS' flexible academic programs? Visit our website, or contact our enrollment team at enrollment@compasscharters.org or (877) 506-8631.