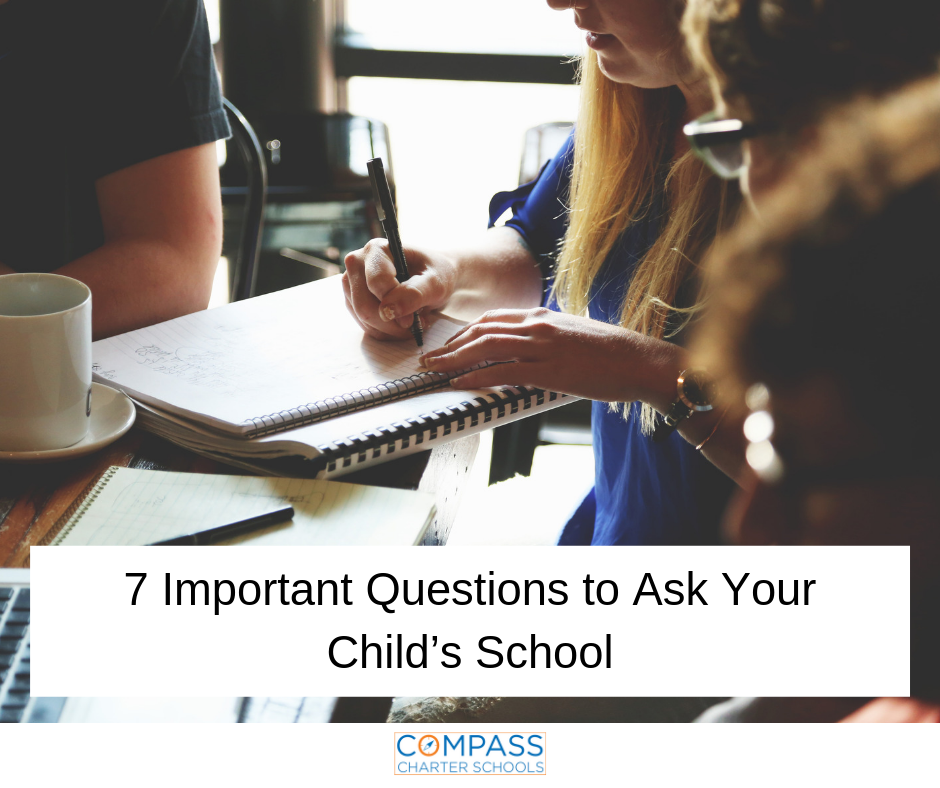 It's the time of year when many families are evaluating the academic experience provided by their child's school and possibly considering a new option for the upcoming school year. Parents who are looking for a new educational experience for their children may want to consider charter schools like Compass Charter Schools (CCS). Charter schools have become increasingly popular over the past few years across the country, and they continue to play an important role in revolutionizing and improving the educational experience for children across the country. Similar to CCS, many charter schools are known for creating personalized learning experiences that are influenced by the local community, parents, and children. 
Considering a new school often sparks a lot of questions. To help, we're sharing seven important questions (and our answers!) that parents can ask a new school to help make a decision for the upcoming school year. 
What are this charter school's mission and core values?
CCS is on a mission to inspire and develop innovative, creative, self-directed learners, one scholar at a time! Our school leadership, teachers and staff are very passionate about our school's mission and they use it as a guide to support their decision-making. We encourage parents to ask the staff at a new school about the mission and how the mission is implemented throughout school policies and procedures. 
The other important guiding principle that our school relies on is our core values of achievement, respect, teamwork, integrity, and communication (ARTIC for short)! Parents may want to ask their child's current school or a potential new school if it has a set of core values and how those values are implemented and recognized. For example, every month, CCS recognizes a Scholar of the Month in elementary, middle and high school. Scholars who receive this special award are celebrated for demonstrating our school's core values!  
Does this charter school focus on specific subject areas?
This is a great question for parents to consider asking a new school, especially if their child has specific interests. At CCS, scholars study core subject areas like English, math, science, and social studies. They also have access to a variety of elective courses like Fashion Design, Hospitality and Tourism, and interior design. Other charter schools may focus on specific subject areas like musical performance or theatre. We encourage parents to ask this question to ensure that they are choosing a new school that best fits their child's interests. 
What types of academic programs does this charter school offer?
Charter schools have the flexibility to offer academic experiences outside of a traditional classroom setting. CCS has two academic programs, online and options, for families throughout California to choose from. Scholars in our online program are taught by our experienced, credentialed teachers through live, virtual classes called learning labs. During these interactive labs, scholars enjoy group discussions with their peers, hands-on activities, and presentations led by their teachers. Scholars in our options program are taught by their parents or guardians who choose their own curriculum and partner with our educational facilitators to ensure academic success. Options families receive educational funds that are used to purchase curriculum, materials, and lessons throughout the school year. 
Does this charter school offer any enrichment opportunities outside of the classroom for scholars?
Another great question! We believe it's important for scholars to have access to engaging and enriching activities outside of the classroom. CCS has an engagement department that is dedicated to organizing multiple field trips each month to exciting museums, parks, zoos, aquariums and much more! Our scholars are also strongly encouraged to participate in our virtual workshops led by our staff to learn about special topics like gardening, coding, health and wellness, or even helpful study tips. CCS also offers a long list of scholar clubs to help engage scholars outside of the classroom including photography, chess, coding, arts and crafts, cooking and baking, and several more. Parents can ask this question to a new school to ensure that their child will have access to challenging and engaging activities during their educational experience. 
Is this charter school accredited?
We believe this is a very important question to ask a new school, especially for children who plan to attend college. Accreditation ensures that a school is meeting a specific set of quality educational standards. CCS is WASC-accredited, which assures that our school is committed to academic achievement, operates with integrity, and meets a high-quality standard. 
Does this charter school have admissions requirements?
CCS does not have specific admissions requirements. However, due to high demand, some charter schools may have a waiting list or lottery system in place to ensure a fair enrollment process. 
Does this charter school support and guide parents?
Independent study programs, like CCS, require a lot of support from parents and guardians. We encourage parents to learn more about the resources and support they have available through their child's school. CCS offers several live virtual workshops called Coaches' Corner throughout the year to support parents. Our staff is passionate about guiding parents while they support their children's learning at home. CCS also publishes a weekly school update to keep our parents well informed.
Do you have more important questions about Compass Charter Schools? Share your question in the comments below.
___________________________________________________________________________________________________________________________________________________
Compass Charter Schools (CCS) is a WASC-accredited virtual charter school that serves families throughout California. Interested in learning more about CCS' flexible academic programs? Visit our website, or contact our enrollment team at enrollment@compasscharters.org or (877) 506-8631.