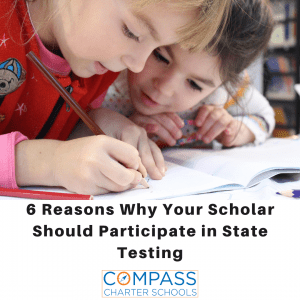 Compass is celebrating its very first State Testing Preparedness Month! A month-long awareness campaign to help scholars and their families understand the importance of state testing and how to prepare for the assessments.
Parents likely have some questions about the assessments scholars need to take in California. For example, do all grade levels need to take these assessments? The good news is that not all grade levels need to participate in state testing. Scholars in grades 3-8 and 11 need to take the California Assessment of Student Performance and Progress (CAASPP) assessment, which covers English Language Arts and Math. Children in grades 5, 8, 11, and 12 need to take the California Science Test (CAST), which covers science. 
Many parents ask why their scholar should participate in state testing. This week we are sharing six reasons why scholars should participate in testing:
It's a Federal Requirement
The Every Student Succeeds Act, a Federal regulation, requires that all schools and scholar groups meet the 95% participation rate and that the participation rate is factored into the Academic Indicator on the California Dashboard. 
New Laws Impact our Future
California law AB1505 was recently passed. It gives local school districts more control to say when and where a charter school can open and expand its reach. Our state test scores are shared with our authorizing school districts that now have the ability to deny the renewal of our charter school without any further intervention. If our authorizing school districts are displeased with our state test participation rates or scores, they may be more likely to decline our charter renewal, which would likely prevent Compass from being able to support your child and other children throughout California.
Charter Schools are Under a Microscope
New laws, like AB1505, have been passed that restrict the growth of public charter schools and put our school under a microscope. Failure to meet the testing participation requirement puts our school's future in jeopardy and could risk our ability to continue serving your child and other children in California.
Testing Affects our Academic Indicator
Every public school's testing participation rate is factored into their Academic Indicator on the California Dashboard. The California Dashboard is an online tool that shows how schools are performing on the state and local indicators included in California's school accountability system. It helps schools pinpoint the strengths and weaknesses of their scholar population. Failure to meet the participation rate reduces a school's Academic Indicator.
Improved Personalized Learning
State test scores provide teachers and parents with data regarding a child's academic development and progress. When scholars participate in state testing, they help their teachers and parents better understand their strengths and highlight the subject areas where they may need more support. Test scores can help teachers and parents understand a child's needs and create a more personalized learning experience. 
Prepare for College Exams
Scholars who plan to attend college or a university after graduation will need to take college entrance exams like the SAT and the ACT. Participating in state testing can help scholars prepare for those college exams. When they're ready to apply for college they will already have experience taking a standardized assessment and will know what to expect, which can alleviate possibly testing anxiety and stress. 
_________________________________________________________________
Compass Charter Schools (CCS) is a WASC-accredited virtual charter school that serves families throughout California. Interested in learning more about CCS' flexible academic programs? Visit our website, or contact our enrollment team at enrollment@compasscharters.org or (877) 506-8631.