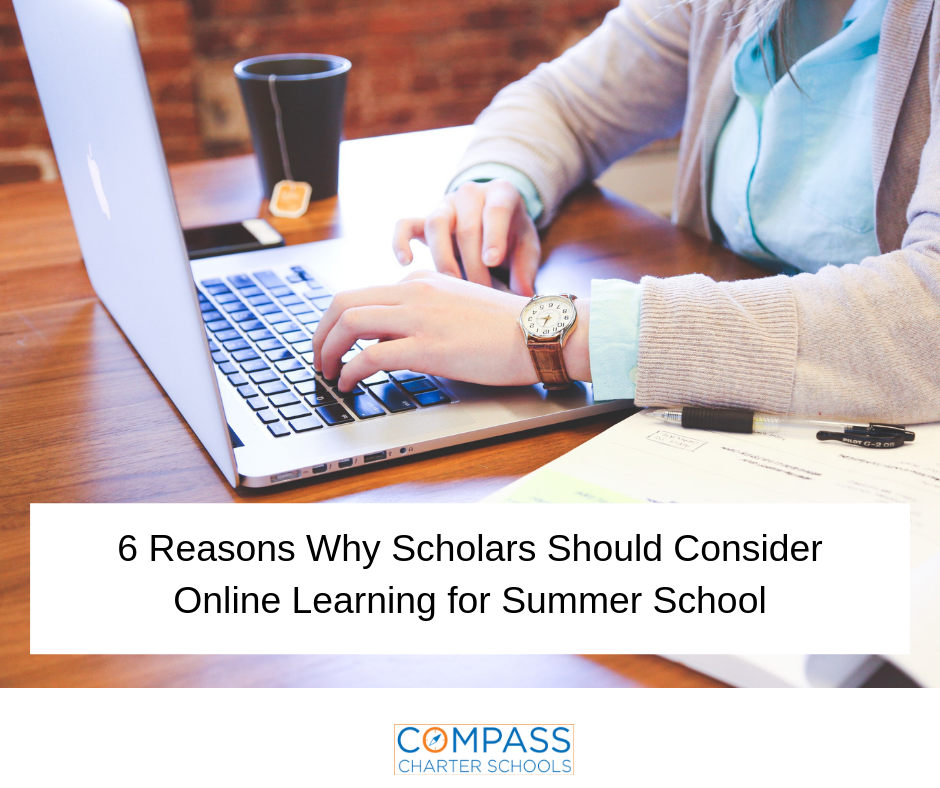 Is your child considering summer school? There are several different types of summer school programs that families can choose for their children. Compass Charter Schools (CCS), an independent study program, offers a virtual summer school program for high school scholars. Families who have never tried summer school before most likely have a few questions about the benefits and expectations of a virtual summer school program.
Is your high school scholar looking to get ahead this summer or catch up on a few courses? Here are six reasons why online learning is a great choice for summer school:
It's Mobile
Don't let summer school get in the way of your family's plans to travel and explore during the warm summer months! As long as your scholar can access the Internet, virtual learning can travel with your family anywhere this summer. Scholars will join their live online classes and work on class assignments without having to give up those plans to go camping with the family or visit with friends. Being able to learn from any location is one of the main reasons why virtual learning is a great option for scholars who plan to catch up or get ahead during summer school!
It's Cost Effective
Better yet, it's free! CCS is a tuition-free public charter school. That means parents can enroll their high school scholar in our virtual summer school program at no cost. Scholars receive a high-quality education regardless of their financial standing.
It's Interactive
The online summer school program at CCS offers an engaging and interactive academic experience. Scholars have the tools they need to collaborate and support each other throughout the entire learning process. They can have conversations with each other during their live online classes to spark discussion about the concepts and lessons. They can also connect with each other outside of class using the community page of our Parent Scholar Portal (PSP). Scholars in the CCS summer school program are strongly encouraged to engage with each other to enhance their learning!
It's Rigorous
All of the classes in CCS' online summer school program are designed to challenge the way scholars think. Each course is purposely made to open their minds to new strategies and concepts. There is an old myth that online classes are easy, well that's simply just not true! CCS' online learning program won't waste scholars' time. They will complete their online classes feeling accomplished and more informed about the subjects they studied throughout the summer. Scholars will feel well prepared to start the new school year strong!
It's Personal
Some may say that online learning is an impersonal experience. That's not the case for CCS' online summer school program! In fact, it's quite the opposite. The teachers genuinely care about each scholar's progress and they go the extra mile to ensure each scholar's success. The teachers at CCS are easily accessible through phone calls, emails, live chat and more. All summer long they are available for Q & A sessions to meet privately with scholars and provide additional support and guidance. Virtual learning allows scholars to build a closer relationship with their teachers and school staff, which often creates a more successful academic experience.
It's Flexible
Need to work and study this summer? No problem! Have plans to pursue a career in entertainment or athletics? You can! CCS' virtual learning program is flexible and allows scholars to study around their busy personal schedules. Would your scholar prefer to study at night after work? Or, is your scholar an early riser? They can learn at the time that's best for them! Scholars in the online summer school program have the flexibility to study at any time of day and at their own pace.
____________________________________________________________________________________________________________
Compass Charter Schools (CCS) is a WASC-accredited virtual charter school that serves families throughout California. Interested in learning more about CCS' flexible academic programs? Visit our website, or contact our enrollment team at enrollment@compasscharters.org or (877) 506-8631.