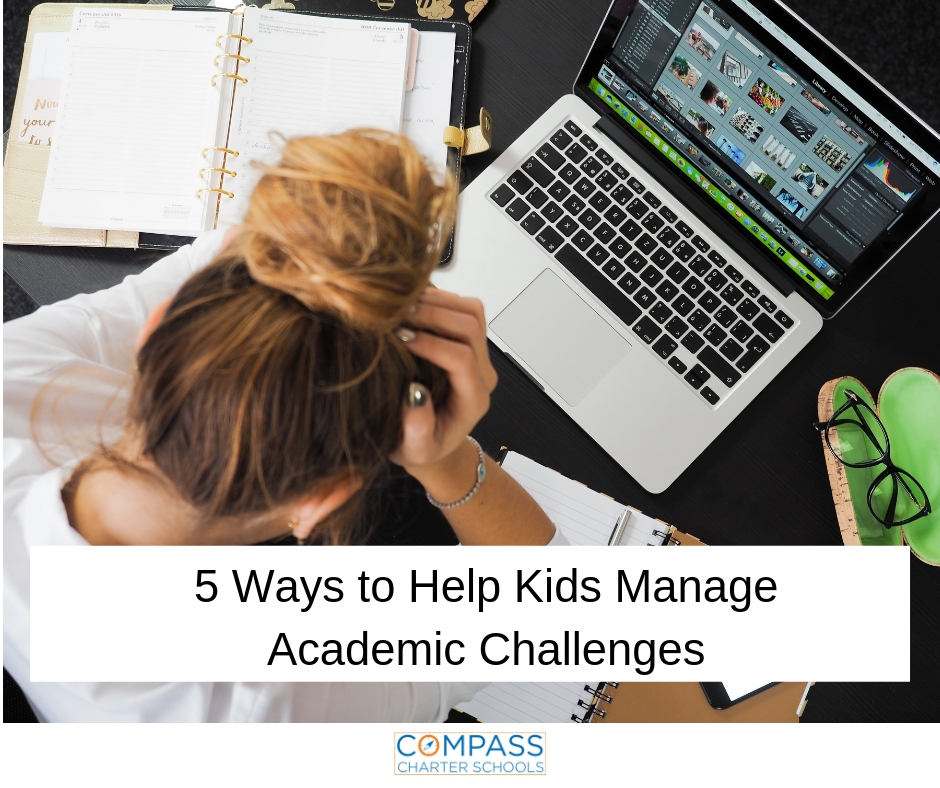 The end of the school year is just around the corner. Soon, scholars will be working on their final assignments for the year and submitting their final exams. Some scholars may feel overwhelmed by everything that they need to complete by the end of the semester. This time of year, scholars can feel a stronger sense of stress and pressure to finish all of their work and wrap up the school year on time.
Thankfully, there are a few simple steps that scholars and their families can take to relieve the pressure and overcome any academic obstacles. Here are six ways that parents can help their child manage academic challenges:
Attend Class
One of the most simple, yet effective ways that scholars can avoid feeling overwhelmed is by consistently attending their classes. Attending class can often help scholars better understand the course material and subsequently have less difficulty completing their assignments. Class time allows scholars to interact with their peers and teacher. They can ask questions and brainstorm ideas. Compass Charter Schools (CCS) strongly encourages scholars in the Online program to attend their virtual learning labs and use that time wisely to avoid feeling lost, confused and overwhelmed by their assignments.    
Communicate with Teachers
Scholars can communicate with their teachers on a regular basis to help relieve any stress they feel about their school work. Teachers can help scholars create a schedule or plan of action to ensure that they successfully complete all of their work on time. They can help scholars properly study for exams or even extend deadlines when necessary. At CCS, the teachers dedicate time every week to meeting with their scholars in small groups or one-on-one to provide additional support. Children at any school should feel encouraged to rely on their teachers for guidance when they feel overwhelmed by their academic responsibilities.
Avoid Procrastination
This is arguably one of the most important ways a scholar can stay on top of their schoolwork and avoid feeling stressed. Parents can support their scholars by getting involved in their academics and helping them create a learning schedule. A schedule can help scholars study for exams in advance and leave enough time to submit assignments on time. When scholars procrastinate and save their schoolwork until the last minute they are often more likely to miss deadlines or not perform well on exams. Being proactive and finishing schoolwork on time will likely help scholars feel less challenged by their academics.
Talk to a School Counselor
School counselors are another great resource for scholars who may be feeling overwhelmed by their coursework. Counselors are able to provide academic and social/emotional guidance for scholars who need support. They can properly coach scholars through their feelings, help them implement healthy coping techniques and create a plan of action to complete their work. CCS has a wonderful team of credentialed, experienced school counselors who work with scholars and their families to ensure a successful learning experience. Parents can also lean on school counselors for advice, guidance, and support to ensure they are effectively managing their child's academic experience and helping them avoid feeling overwhelmed.   
Take Short Breaks
Scholars may feel anxious when they have a long list of school assignments that they need to complete. Some may try to rid themselves of this anxiety by buckling down and attempting to finish all of their assignments at once. This strategy can lead to incomplete work, exhaustion and ultimately more anxiety. Instead, we highly recommend that scholars take short breaks as they work on their assignments. We believe that when scholars take a short break in between assignments they give themselves a moment to reset, relieve stress, clear their mind and feel refreshed for the next assignment. In doing so, they are often more likely to create quality assignments and better understand the course materials. Scholars can use their break time to get some exercise by going on a short walk or doing some yoga. They could also listen to some music and color for a little while. Scholars can choose to spend their short break time however they would like, but it's important to know when to end the break and get back to finishing up their schoolwork!
______________________________________________________________________________________________________