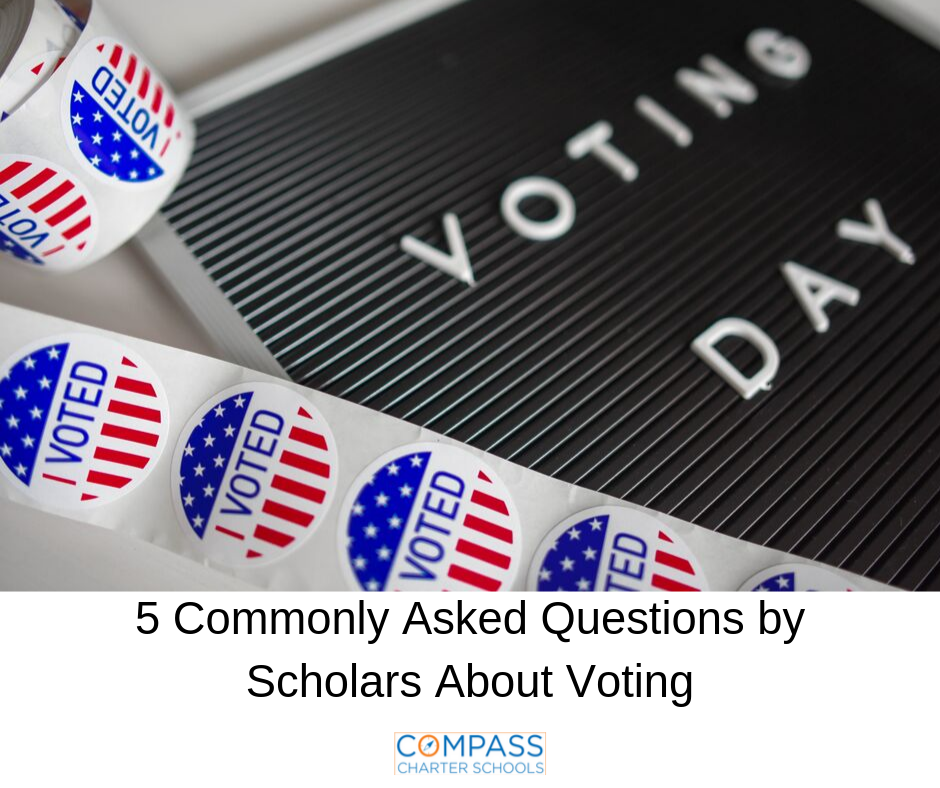 Last week marked the start of High School Voter Education Weeks in California. The statewide initiative is committed to helping more teens pre-register to vote and cultivate a community of lifelong voters. Starting at the age of sixteen, high school scholars can pre-register to vote and be prepared for an election after their eighteenth birthday. The teachers and staff at Compass Charter Schools (CCS) are supporting this initiative by encouraging their high school scholars to pre-register to vote and then exercise their right to vote once they've turned eighteen.  
For some teens, voting may seem like an overwhelming experience. To help minimize some of those anxious feelings, we're sharing answers to five commonly asked questions about voting:
How do I register to vote?
Teenagers who are sixteen and seventeen years of age can pre-register to vote by visiting the California Secretary of State. Adults who would like to register to vote can register online or they can pick up a voter registration form at the Department of Motor Vehicles office, and many post offices, public libraries, and other government offices. Adults can request to receive a voter registration form in the mail from their county elections office. Both teenagers and adults will need to register or pre-register to vote by 11:59 pm Pacific Time on the 15th calendar day before the upcoming election. The staff at CCS encourage their scholars to pre-register to vote during the High School Voter Education Weeks that are happening now. 
What do I need to pre-register or register to vote?
To register online, individuals will need their California driver's license or identification card number, they will need to know the last four digits of their social security number, and lastly, know their birth date. All of these items will be used to properly identify each person as they complete the voter registration process. Then, the county elections official will assign each person a number that will be used to identify them as a voter.
Once I'm registered to vote and I've turned eighteen years old, where do I go to vote?
It's important for new voters to know that they will need to go vote at an assigned location, not just any poll location. Adults can contact their county elections office or call the Secretary of State's toll-free voter hotline to get information about their designated voting location. All voters should also receive a Voter Information Guide from their county elections official, which should have each person's assigned voting location on the back of the booklet. 
How do I research political candidates and parties?
We strongly encourage scholars to do their research before heading to voting polls. Being an informed voter helps everyone make knowledgeable decisions about the causes and changes that their vote supports. Scholars can research each political candidates background and experience. It's also important for scholars to understand the key issues that are being debated and voted on during each election. We encourage scholars to review the issues on each ballot before voting and get to know how each political candidate plans to address or solve those issues. It's important for scholars to research each candidates stance on relevant political issues and issues that matter to them personally. 
What is an Absentee Ballot? 
Absentee ballots are used when a voter will not physically be in the state that they are registered in during the time of voting. For example, a scholar who is attending college outside of their home state may need to request an absentee ballot to vote while they are away from home during the voting period. Scholars will need to submit a request to receive an absentee ballot, which they will receive in the mail. Then, they need to complete the application and return it in the mail by a set deadline.  
We encourage parents to talk about voting with the scholar no matter their age! We believe it's important for scholars to understand the benefits and importance of voting, and to feel motivated to vote once they become of age. Does your scholar have more questions about voting? Share them in the comments below! 
____________________________________________________________________________
Compass Charter Schools (CCS) is a WASC-accredited virtual charter school that serves families throughout California. Interested in learning more about CCS' flexible academic programs? Visit our website, or contact our enrollment team at enrollment@compasscharters.org or (877) 506-8631.