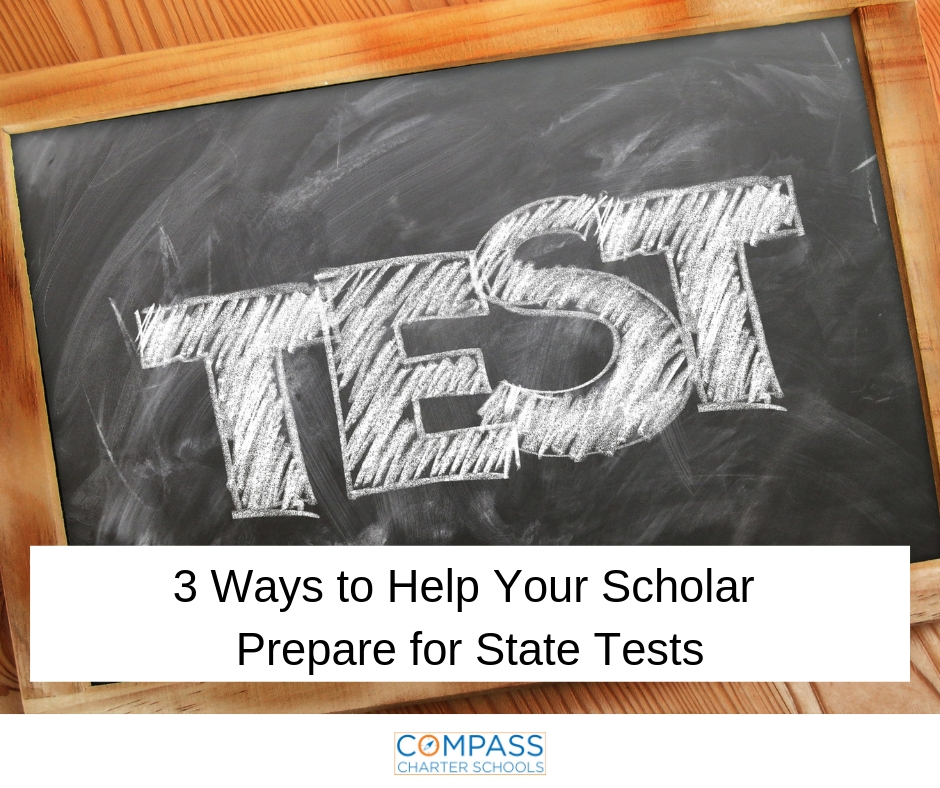 At the beginning of April scholars throughout the state of California will participate in state testing. These standardized assessments are an important tool that allows parents and educators to identify a child's academic strengths and areas where they may need additional support. Compass Charter Schools (CCS) is committed to providing personalized learning experiences for all scholars and state assessments contribute to that process.
Scholars are strongly encouraged to participate in state testing. In order to receive the proper funding and continue serving scholars, the state of California requires public schools, like CCS, to submit testing results as well as testing participation rates. Charter schools have the added requirement of assuring acceptable results and high participation rates to maintain or renew their charters with their authorizing districts. Scholars at CCS are strongly encouraged to participate in state testing. Scholars who do not complete state assessments may have a negative impact on their school's future.
Parents at CCS are invited to partner with teachers and school counselors to ensure that their scholar has a positive testing experience. Here are four ways parents can help their scholar prepare for state tests:
Take Practice Tests
Scholars can log into the Practice and Training Test Site to help prepare for their upcoming state assessments. To get started, scholars will need to visit the website, log in as a guest, select a grade level, and then select the practice test they would like to take. Taking a Practice or Training test can help scholars become more familiar with the testing system ahead of time. It's also a great way to learn more about the supports that are available during testing. Another great resource to have on hand is the Keyboard Commands, so scholars can become familiar with the icons within the testing system.
Parents may be wondering, what is the difference between Training Tests and Practice Tests? Training Tests are shorter, arranged by grade and include new item types (e.g., hot text and matching). Scholars are able to access and practice using all of the test tools, supports, and accommodations, which are not currently available on the Practice Tests. Training Tests do not include performance tasks. Practice Tests are longer and arranged by grade level. Practice Tests also include performance tasks.
Get Familiar With Your Scholar's Courses
We encourage parents to get involved in their child's education and understand what they should be learning in their English Language Arts and mathematics courses. To discover learning expectations and how to support their scholar in both content areas, parents can visit the CAASPP/SBAC website, and look for the Parent Roadmaps. On the same website, parents can look at sample score reports, learn how to interpret them, and understand how they can use those scores to identify areas where their scholar may need additional support.
Parents and scholars can receive additional guidance by talking with their teacher or educational facilitator. At CCS, English and math teachers have test preparation activities planned during their virtual learning labs, and the Educational Facilitators suggest activities to the homeschooling families to help reinforce foundational skills that scholars will use during testing.  
Families can also find activities that match their scholar's performance on the Be a Learning Hero Skill Builder website.   
Practice! Practice! Practice!
Scholars are strongly encouraged to complete their class assignments because they are a great way to reinforce the skills and content that they learn every day. In addition to the state tests and benchmark assessments, homework is another measure that parents can use to see their scholar's progress throughout the year. For sample problems and questions (along with solutions and answers) scholars can visit The Smarter Balanced Sample Items website. These sample items do not replace the value of the Practice and Training tests, but they are a great way for parents to work with their scholar, one question at a time, to see the types of questions that will be presented on the state assessments.  
Relaxation for All
Scholars can benefit from learning how to relax while preparing for test day. A few breathing techniques and seated stretches can help scholars on test day and prevent anxiety from creeping up on them. The more relaxed and positive about testing a scholar feels, the more likely their testing performance will be enhanced. Also, when parents have a calm positive attitude about testing they can help reduce their scholar's anxiety level as well. On test day, parents can be positive and encouraging and remind them to use the relaxation strategies they've learned while testing.
For even more insight on the benefits of state testing and how to prepare for those assessments, visit the California Department of Education.